Horizontal vs. Vertical Boring
Quick Facts
Horizontal and Vertical Boring Machines are defined by the orientation of their spindles.
Horizontal Boring Mills keep the workpieces stationary while the tools turn to perform operations.
Vertical Boring Mills turn the workpieces while the tools remain stationary.
Why do we have so many Horizontal Boring Mills?
Horizontal boring offers more versatility due to:
Ability to accommodate large part sizes - 5m x 3m (200" x 120")
Increased production speeds
Reduced tool deflection
Compatibility with CNC machining
Materials We Process
Castings, Alloys? No problem.
Capable of processing numerous materials from carbon steel to engineered alloys, we have the experience and tools to carry out a broad range of machining processes.

Large and Heavy Part CNC Machining
Big is what we do best.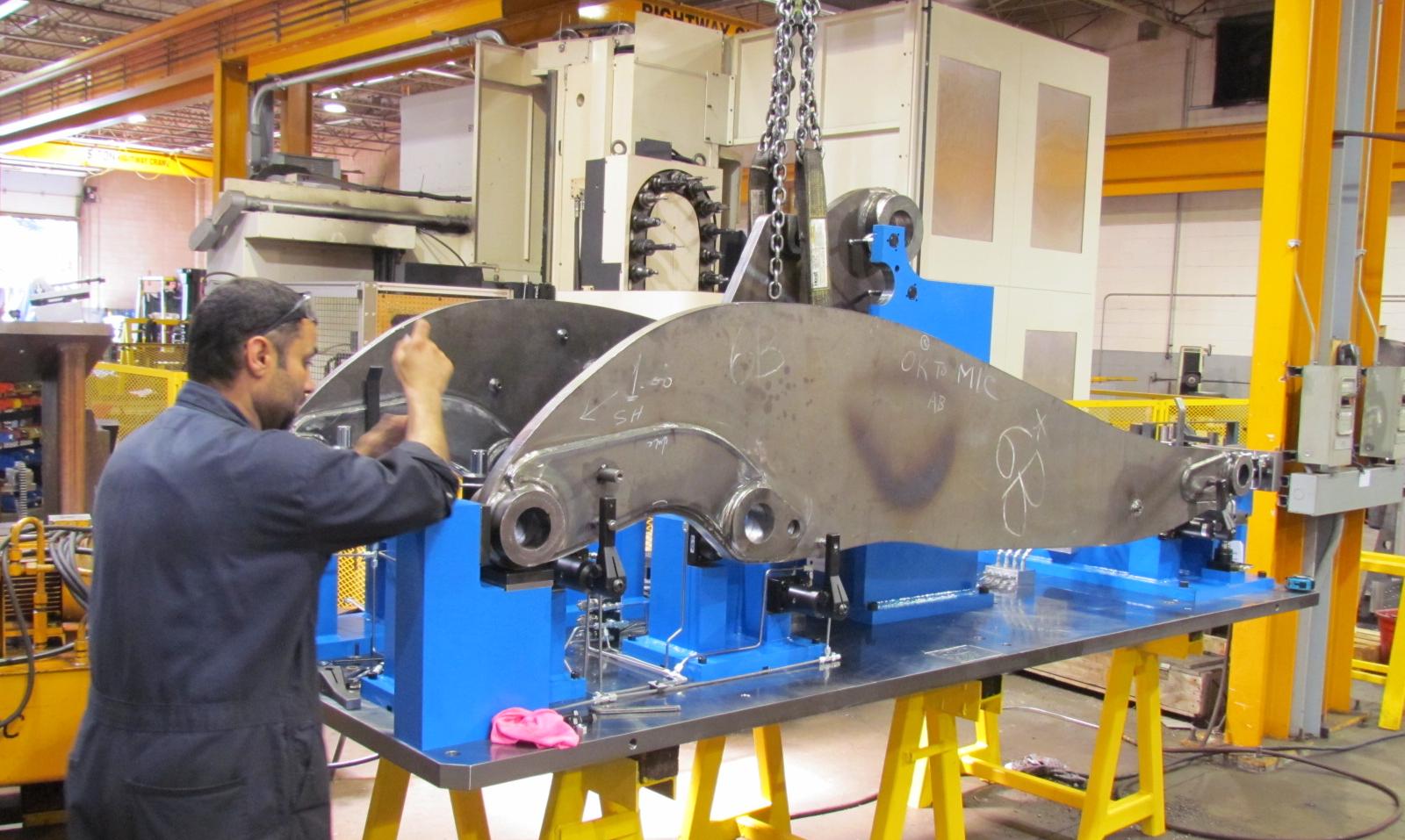 Size adds to the already complex nature of the fabrication and machining processes. Large parts require large equipment and a skilled workforce to produce high quality components. Romac specializes in large-scale precision components.
Drive in Bay with 20 Ton Crane Capacity
Handling large parts is what we do best. Our drive in bay and 20 Ton crane capacity were purpose built to move big parts.
Extensive Rigging and 7 Ton Lift Truck
Once inside our extensive rigging and 7 ton lift truck are utilized to get parts into place so that the real work can begin.
Production Fixture Manufacturing
When precision matters
Romac's custom machining extends to the design and creation of production fixtures used in high volume manufacturing. These fixtures vary in use from work piece holding, quality inspection as well as manual and robotic weld fixtures. Precision datum targets are crucial to the fit and function of production fixtures, this is why prior to shipping all fixture datum targets are validated using our CMM.
Horizontal CNC Boring
Heavy Duty, Top of the Line Equipment
We harness the industry best - Tos Varnsdorf and Toshiba - horizontal boring mills to deliver on our customer's exacting requirements.
High Speed Precision and Complexity
Known for our dedication to precision and quality, you can trust your complex machining needs to our highly skilled technicians. We maintain and verify tolerances of +/- 0.01mm (0.0004") on even the largest of work pieces.


Vertical CNC Milling
Modern and Versatile Equipment
Our Toshiba and Baron vertical CNC milling stations have the versatility to support the most demanding machining requirements.