Large Fabrication Capacity
Our welding shop has capacity to fabricate parts weighing up 20,000lb. We deliver tight tolerances on all large sized fabrication orders we receive. Our quality standards and our 5m (200") gantry CMM allow us to validate all components as they pass through production.
MIG, TIG and Stick Welding Capabilities
Our welders are Canadian Welding Bureau (CWB) certified and highly skilled in the Metal Inert Gas (MIG), Tungsten Inert Gas (TIG), and stick electrode welding processes. Our team can weld carbon steel, stainless steel and aluminum in a wide range of thicknesses.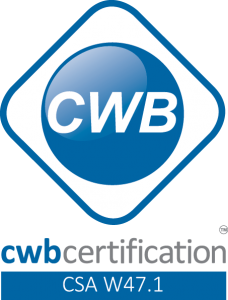 Complete Processing
(Raw Stock to Machined Part)
We pride ourselves on being a complete solution provider for large scale fabrications.
Our onsite designers and engineers work with our customers to assure their designs satisfy the customer's needs - from material sourcing, through fabrication and machining, to the final validation with use of our CMM.